"Someone's eternity is on
the other side of your obedience"
"If you sow it God will grow it,
if you don't sow it He can't grow it"
"Your best days are ahead of you"
Celebrate Recovery | Step Study
Each year Celebrate Recovery offers an in-depth look into the twelve steps. This study guides participants into deeper healing by addressing emotional hurts, destructive habits, and limiting hang-ups in light of the word of God. This study uses the Celebrate Recovery Journey Begins curriculum. Books are available for $20.00.

The Step Study begins Monday, June 12, in the sanctuary from 6:30-8:30 pm.

Please contact Pastor Tricia Bledsoe at the church office for childcare or further questions.

**We will close the study to newcomers on June 27th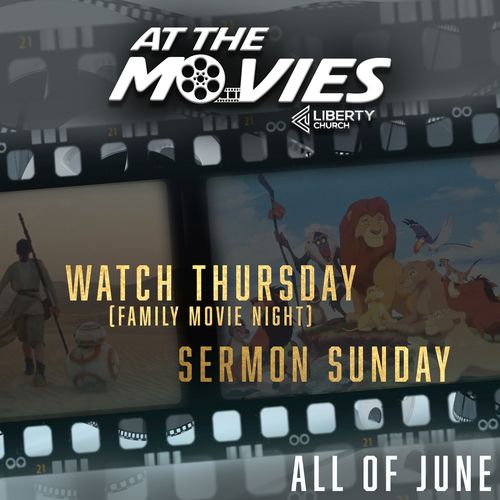 Join us in the month of June for our "At the Movies" series. The whole month of June we will be watching movies together and then on Sunday's our pastoral team will be pulling out Biblical truths we can find in these blockbuster hits.

So come out on Thursday nights at 6:00pm for our Family Movie Night with concessions available.

Then join us on the following Sunday at 9:00 and 10:45am to hear the sermon on the same movie. Concessions, photo ops and lots of fun to be had!

6/2 Star Wars | The Force Awakens
6/9 Chronicles of Narnia | Voyage of the Dawn Treader
6/16 Overcomer
6/23 The Lion Ling
6/30 Wreck it Ralph



Father's Day | Guest Speaker
On Father's Day, June 19th, we will be welcoming a special guest. Dr. Lemmer Du Plessis will be sharing for both services that Sunday.

Dr. Du Plessis comes to us from South Africa and is an author of several books and a Bible scholar that shares his love for the Word in a profound way.

You don't want to miss it!
Summer Camp is around the corner. It is not too late to sign up and have an experience with God and friends that you will never forget!

K-2 Day Camp | June 13-16
345 Day Camp | June 20-23
JV / Varsity Overnight | June 26-30
K-2 Overnight Camp | July 10-13
345 Overnight Camp | July 17-20

AIM TEAM CAMP IS CELEBRATING 10 YEARS OF CULTIVATING CHAMPIONS!

For more information visit the Aim Team Camp Page.
Click below to Register.